Raffles Marina, Singapore
December 21, 2007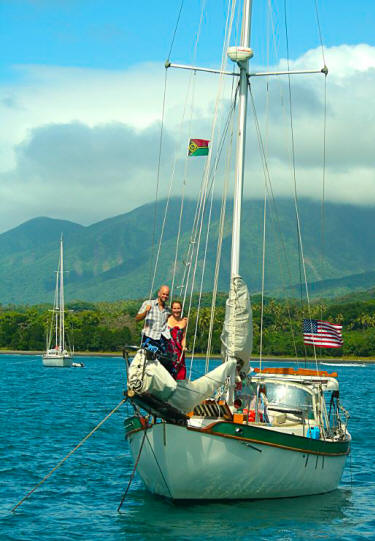 The rumors are true. After nearly four years and 25,000 miles the Micos are calling it a day. Bad news for us but good news for you if you are looking for a great boat at an amazing price. It also helps if you like SE Asia!
Price: email us
First, a few facts about the yacht:
| | |
| --- | --- |
| Type / Make | 1976 Westsail 32. Owner finished and launched in 1982. USCG number 633059 |
| Color | White hull / Green strip |
| Engine | Perkins 4-108M |
| Prop | Campbell Sailor 3 blade fixed |
| Berths | 2 in forepeak, 3 in cabin (with lee cloths) |
| Rigging | All 316 19/32'' 1x19 |
| Main sail | Hasse Port Townsend Sails standard batten. |
| Head sails | Port Townsend Sails staysail and spinnaker, Kern super-Yankee, Genoa. North Sails 170% Genoa. Trysail on separate track at mast. |
| Liferaft | Avon four person mounted on deck. |
| Dinghy / Outboard | Avon four person. Tohatsu 5HP. |
| Fresh water | 90 gallons |
| Diesel fuel | 70 gallons |
| Holding | 35 gallons |
| Windvane | Cape Horn servo-pendulum |
| Stove | Hillerange Princess LPG |
| Windlass | LoFrans 1200w "Tigres" |
| Anchors | 45 lb. CQR primary, Bruce and Fortress secondary. |
| Rodes | newly galvanized 3/8'' BBB - 300 feet primary. 300' nylon secondary with swivel for para-anchor setup. |
| Sail covers | Stackpacker main with spectra lazy-jacks. All new sunbrella covers and cockpit cushions. |
| Interior | New ultra-suede cushions |
| Refrigeration | WAECO mounted in icebox. ~30 amp / hours daily at 30 degrees F |
| Solar panels | x3 for daily output of ~30 amp / hours in tropics |
Q & A from emails:
Where are you located?
We are on the west side of the island nation of Singapore in Raffles Marina.
So why are you doing this?
We've had a good run and we want to get out on a high note. It has nothing to do with how we feel about Mico. She's been a trusted and loyal companion throughout all our travels.
How can the price be so low if there's "nothing" wrong with her?
OK, so there's no such thing as a perfect boat, however the cost reflects not the state of Mico's repair but the economics of our cost to the ship her all the way back to the US. It's win-win for all involved if we can sell her here as opposed to back in Seattle. I will go on-the-record and state that Mico has never been in as good condition as the day she pulled into Raffles Marina after three months in Indonesia. She was a wreck when we purchased her in 2003 and now she's a cruising yacht you can be proud of and rely upon.
Mico Verde Resources:
Yacht inventory for sale.
Mico's maintenance and upgrade logs 2003 to 2007 (download ZIP file / spreadsheets).
Mico Verde's storage plan available here.
Westsail Resources:
Bud Taplin's site (former GM of the factory and known as "the Westsail guy)
Wikipedia article on the Westsail 32.
Boat US yacht review.