To read about our Pacific Ocean crossing to the Marquesas, click here.

Season Three: South Pacific
For our journals in sequential order, read from the bottom up or use these links to jump around the page. When you reach the end of an entry, click on the "Next journal entry" hyperlink to go to the following entry.
June 6 - Daniel's Bay, Nuku Hiva
Enroute to Tuamotus, Pacific Ocean
June 18, 2005
(Wojo)Three days at sea already and to think that this same amount of time seemed like an eternity last year when we took our big first step from Seattle to Crescent City.
As I've mentioned before long passages and quiet nights are good times to think about things – any thing, actually. For some reason on this leg I've been thinking of two little vignettes from my past life.
The first is really only a question. One that someone asked me a long time ago and that I think about all the time. When I was twenty-two I lived in a house on Lake Dell near Lake Washington in Seattle. I had two roommates, one of whom I'd know from way back in my misspent years in the Midwest. Unfortunately over the past few years I've lost touch with him but here was his question. I think it was on a cold and rainy December Saturday night that we were all home and sitting around the posh kitchen that overlooked the hill on the second story. We were talking about random things when my friend asked me if I could recount the "history of my intellectual development." Now this sounds like the typical BS that any early twenty something talks about after they've had a few on a lonely night etc but I think that it was probably the best question anyone has ever asked me in my life.
In itself it's a good question, but I think it's incomplete. Your "intellectual" self to me infers one's mind (only) which is to say – "how did you come to become the you that only you know." The bigger question would encompass the private and the public you in "how did YOU get here?!" At the time he asked it I don't think I yet had the words to form a true response but maybe someday we'll meet again and I can have another shot at it.
The other story is one that my best friend in Seattle told me last year during one of the most fun, surprising and unpredictable nights of my life. I think there's even a moral. OK, here goes: this friend of mine runs an eclectic little creative company near Pioneer Square. One of the perks of this location is that he gets to really know the downtown city as it is. Every morning, after he gets the best cup of joe in the city (at Vivace in Cap Hill), he walks down the hill toward his office and passes by Occidental Park on the way to First Ave. Each day around seven or eight there's a group of native guys assembled in the park to share some liquid refreshment. Every day for a month the same thing happens as he passes the same group in his morning routine. Each time he passes by a member of the group sees him coming and says "hey, get a haircut!" My friend is a sexy bald man just like me. So this goes on and on and finally one day he gets so bored with the whole routine he stops to talk to the guys. After getting the usual line he says "OK … I get it, but that joke is getting SO OLD. I know that you can come up with something more original." The group seems a little taken aback and he's off on his merry way. The very next day he finds himself crossing Occidental Park again, spies the usual group and waits for the same tired line. BUT, as he passes by no one says anything and just as he's starting to think they've forgotten about him the everyday crier pipes up with "HEY! It's Jay Buyner's brother!" If there's a moral here it's probably something like: even if you think no one gives a shit make an effort anyway, or at the very least you can wear people down."
This same friend also told me that I'd score huge cosmic points by getting in touch again with my long lost insane family and giving them bullet points of my life from the past 15 years. Not going to happen in the near future (no ones perfect, right?) but you never know.
Daniel's Bay, Nuku Hiva
June 9, 2005
(Wojo) We made the jump to Nuku Hiva, the next island north, a few days ago and arrived at Taiohae bay. What a big, bustling village when you consider there's only 2,000 people on the whole island. We even attended a cruisers' happy hour at the fancy hotel (Pearl Cottages) that overlooks the bay.
Right now we're in the next bay over in Daniel's Bay (the one where they shot Survivor: Marquesas). We did do some trolling in our dinghy Bonobo along the coral and caught a nice Spanish mackerel for dinner the other night. Seeing a six-foot shark jump almost completely out of the water after throwing what was left of the fish overboard definitely gave me pause for future swims around the bay.
(Steph) Other people from other boats have been swimming around here, and we haven't heard news of a shark attack yet. So it's probably safe around here. But we're still not taking our chances. :) We're leaving Daniel's Bay today to head back to Taiohae for a day or two, and then to Anaho on the north side of the island where we'll get some good snorkeling in. Then it's off to the Tuamotus.
Daniel's Bay is technically Taioa Bay, but has been labeled Daniel's Bay because of a nice man named Daniel who has lived here for over 70 years. He was displaced when Survivor came in here to shoot a few years ago, although he doesn't seem too bitter about it; they built him a new house close by. The bay is very calm and protected, and has high walls surrounding it.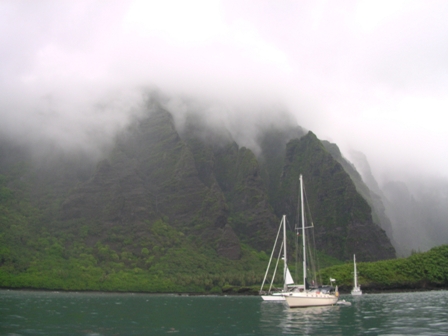 The misty anchorage at Daniel's Bay
It's also famous for being the base for the trailhead that leads to the 3rd highest waterfall in the world (Vaipo waterfall is 350m high; I'm not sure where the 1st and 2nd highest waterfalls are located). During our long, hot passage to the Marquesas, we would yammer on about how great it would be to go swimming in cool, fresh water at the base of a waterfall. So it became our mission to see at least one waterfall while in the Marquesas, it being our last chance for a while to find one.
We started out one day to find the trailhead, but were soon waylaid by mud up to our knees and a broken Teva sandal. We were just glad that no locals saw us struggling through the mud in search of the trailhead. I'm sure they would have been shaking their heads, thinking, "Who are these idiots that come from miles around to do this strange activity they call 'hiking', and then slog around in the mud when there is a perfectly good trail right over there?" Easily discouraged, we went back to the boat and worked on replacing the thermostat on the engine for most of the day. (We are keeping our fingers crossed that this might be the solution to the engine temperature running so high).
The next day, we started out again, armed with the advice of cruisers who had already done the hike. This time, it was a piece of cake. We met some local boys who were bathing their horses in the river. These guys were sporting the full-on Marquesan style; I wish we got a picture. They were really buff, standing in the water waist-deep with their horses. They were both wearing huge boars' teeth necklaces, and had their curly shoulder-length hair pulled back. They were very friendly, and pointed out the trail after offering us pamplemousse (giant grapefruits with a green skin that put all other grapefruits in the world to shame).
Not long after setting out, we met the famous Daniel, a friendly, toothless old man. We chatted a bit in a smattering of English and French, and then he busted out with some Japanese; for having lived here for 70 years, he manages to have a world view! We continued on our way, now accompanied by Daniel's dog. The dog was absolutely amazing; while the trail was clearly marked the whole way, he still insisted on leading us to the very end. When we lost sight of him, we'd whistle and yell, "Chien de Daniel!" and he'd come running back to us. If ever we stopped to dawdle over some interesting sight, he'd wait patiently until we resumed walking. The hike was spectacular. There was gorgeous scenery in a variety of terrain, and archeological sites were abundant.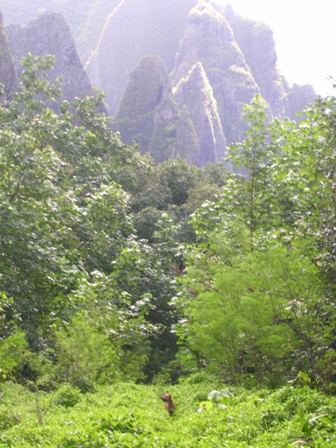 Daniel's chien leads the charge (you can spot him in the bottom center of the photo)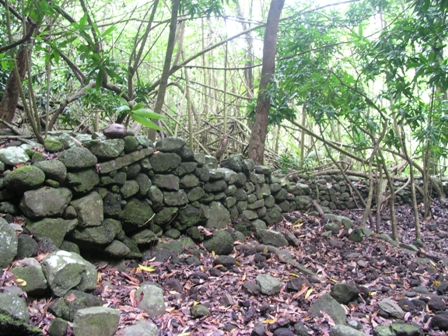 Pae pae near the waterfall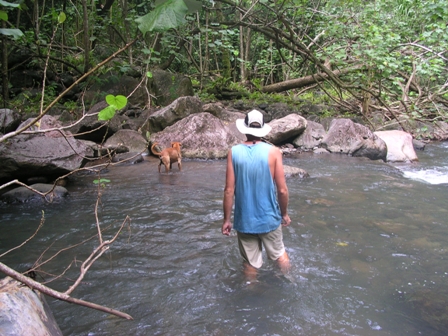 Our leader fording a stream
We finally reached the base of the waterfall, only to discover that it is obscured behind a big rock wall. But we still enjoyed the swim we had promised ourselves, and basked in the freshwater pool. Warren wanted to dive off the surrounding rocks, but the water wasn't clear so we couldn't see to the bottom. He had me sound the bottom of the pool in several spots, but it was never more than 7 feet deep.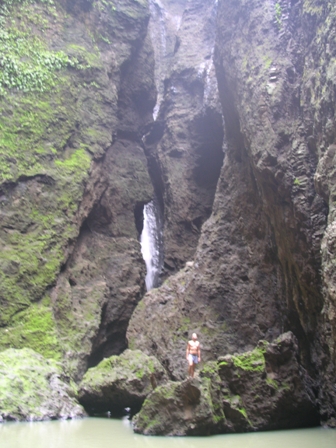 Vaipo waterfall with Tarzan -- er, Wojo
Warren recently wrote a bitchy letter to a few sailing rags raising the issue of boats not setting anchor lights, which you can read here.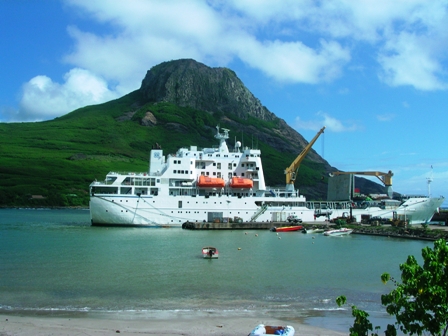 MV Aranui in port
(Wojo) Phew ... Ua Pou has been a whirlwind stop for us but it's all been wonderful. On Monday the Aranui, a big passenger/cargo ship from Tahiti, pulled into port. We knew the ship had arrived when at 0630 we heard what sounded exactly like a VERY big conch shell being blown close to Mico. Steph and I looked at each other and knew that we had to get up quick since Aurora B was still parked near the dock used by the ship and had to move. As soon as we poked our sleepy heads out the hatch Maggie called over to ask us to pull up their stern anchor.
The Aranui arrives every three weeks and is a big deal for the little town of Hakahau. All the locals greet the ship on the quay and pick up their supplies of TVs, veggies, kids' bikes ... The tourists disembark for a few hours and are treated to a local show and feast.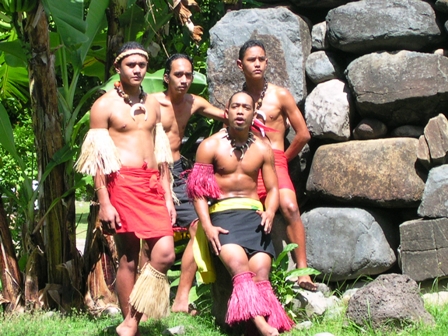 Boyz 'N Da Hood Marquesan style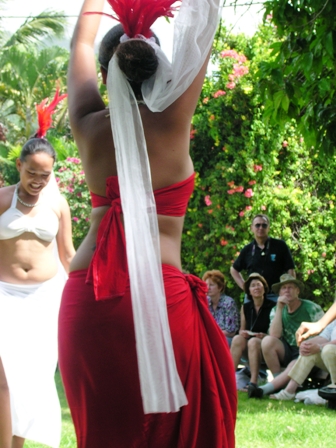 Marquesan vehine dancer
Dancing was held in the late morning in the center of the town at the pae pae site. It was a beautiful day (without much rain) and the performers were in fine style. After the show the tourists (and Steph and I) retired to a restaurant that is only open when the Aranui is in port. We dropped by earlier in the morning to make a reservation. The tourists had a big buffet and we were given our own huge portions (the amount of food was embarrassing but we took some back to Aurora B at the end). The food was superb consisting of about seven courses for around $25 per person.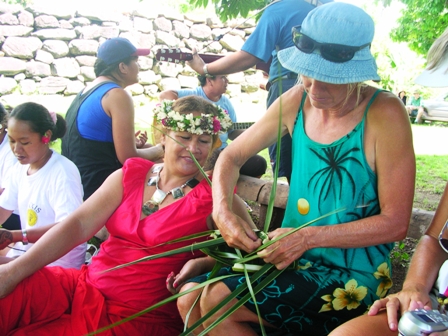 Local women teaching Maggie from Aurora B basket weaving
The next day we arrived at the quay around 0800 to meet a guide that would be showing us around the island for the day (thanks to Tom for setting this up the day before while we were pigging out at Chez Rosalie). A young Marquesan named Heato (Hay-AH-toe) takes 'special' groups of sailors around for $15 a head. His family runs the Pension Vehine and usually just does this trip for their guests, but Tom is a magic man with the locals ...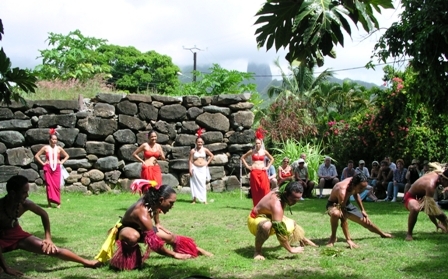 Dancing for the Aranui tourists at the pae pae at Hakahau
We can highly recommend this trip, which lasts most of the day, to anyone coming to the island. It included many archeological stops, including one through the thick bush where an ancient villiage resides with dozens of multi-leveled pae pae and maeae. Heato is extremely well versed in the history of the island. His father is a teacher in Hakahau and also the head of the cultural center. In addition, his grandfather was the last chief of Ua Pou. We were also very impressed with his eloquent English. In addition to pae pae we also toured a noni plantation, had lunch at a beach where you can still find "stone flower rocks" (which Steph did) and climbed up steep rocks to take in some sweeping vistas and valleys below.
(Wojo) Last night we made our longest passage in the past two weeks at around 14 hours. We pulled up our anchor at Hanatefau around sunset and set off to the NW for the island of Ua Pou in the northern group of the Iles Marquises.
The little trip was pretty uneventful and we had barely any wind so we spent a fortune on petrol unfortunately. We arrived at Hakahau at daybreak and we happy to see Aurora B (who even were kind enough to row over at 0600 with coffee as we were putting the boat away) and Wyndeavor anchored inside the breakwater as well.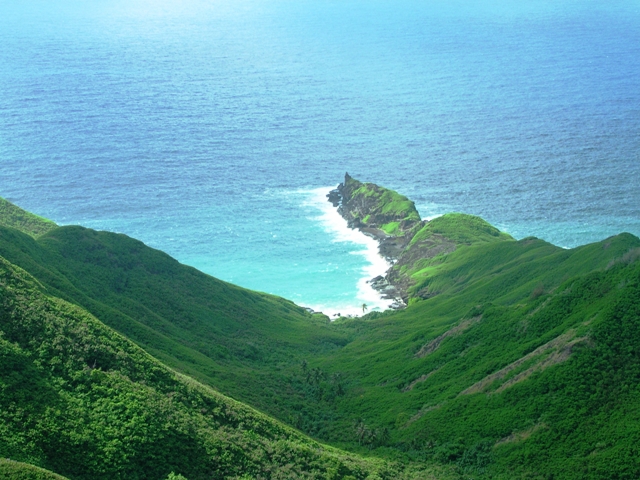 "Valley of the King" in Ua Pou
This began our saga of anchoring for the day ... I was confident that the spot, just abeam of Aurora B was pretty good and protected but as some boats closer in were leaving later Steph was determined to get a more placid spot. We decided to pull the hook and move in close to Wyndeavor just off the schooner dock. No more than five minutes after we arrived we were visited by one of our neighbors (one who was leaving) telling us to be careful setting our stern anchor since he had about 140' of chain out (in 10' of water for 14:1 scope!). I held my tongue and remembered the golden rule of last boat in is subject to move etc.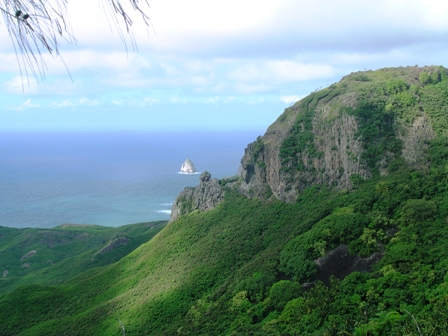 Many lush vistas ...
There were other boats around us getting equally frustrated. Including a US boat which gave such a display of bad behavior in yelling, harassing the crew/wife I swore to never raise my voice above a whisper again. I don't know if this guy was a 3,000 mile rookie or just a complete asshole or what but it was horrifying to watch. I really plan to avoid him if at all possible in this little town.
Five minutes later a young Frenchman with the most curly hair I've ever seen from a pretty boat covered in floral pattern arrived to excitedly warn us that we were in a very dangerous spot since the Aranui was scheduled to arrive on Monday. We're not sure if it was a language barrier thing or what but he went on and on about what could happen to us if we chose to be foolish and test the will of the big supply ship. So we moved again, but by this time three more boats had arrived in the anchorage and good space was at a premium.
We tried at least three spots (with the stern anchor as well) and finally in frustration picked the worst spot in the anchorage to wait out the leaving boats. By this time I was so exhausted and annoyed with everything and everyone. It's amazing how fast you can get worked into a tizzy over nothing out here some times, especially when you've had no sleep the night before.
We eventually found a cozy little spot and settled down (including splurging on power to fire up our portable refrig for some cold Hinanos later in the evening). We're very excited to be here as Tom and Maggie (Aurora B) have unequivocally stated that this had been their favorite stop thus far. The scenery is spectacular, including soaring rock spire lava plugs and a huge butte to the north.
Hapatoni/Hanatefau, Tahuata
May 26, 2005
(Steph) We are anchored in Hanatefau Bay, but decided to go into the small town of Hapatoni today, in search of water. We found a water spigot, but it would mean having to drag the dinghy up on a beach through some rocks, so we think we'll wait till Ua Pou to top off the tanks.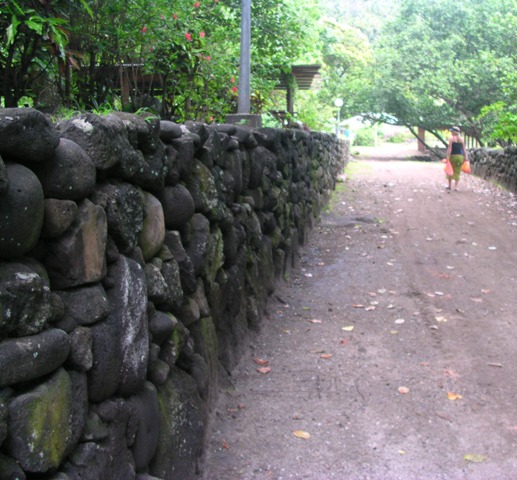 The royal road
There is a road here that was built in the 19th century that leads around the shore. As we started walking along it, we saw a large contingent of locals gathered under the shade of a tree right at the water's edge. We walked over to see what they were up to. They were cleaning and filleting fish.
| | |
| --- | --- |
| | Where are these people when we catch a mahi mahi? |
We walked over to get a better look, and an older woman immediately motioned us to come closer and then gave us two huge fillets of fresh fish. Then someone else produced a big bag of bananas and handed them over. Then another person pulled two crepes out of nowhere and insisted that we eat them. This was all in the space of about a minute, with none of them speaking English and Warren and I barely being able to speak a word of French. We had nothing to offer in return, but they didn't seem to expect anything. The people we've met have been so amazingly generous, it is absolutely mind-boggling.
They explained that there is a big party that the four villages on Tahuata are throwing in two-weeks' time, so they are all preparing. Sadly, we won't be around for it.
We continued on and found a huge area of pae pae, the stone foundations on which traditional Marquesan homes were built. People used to build shelters of palm leaves and other vegetation on top of the pae pae foundations. The area has been very well restored, and we could really imagine how people used to make their homes here. There are mortars carved out of rock everywhere, where the people used to prepare their meals. Periodically a petroglyph has been carved into the rock, as well (unfortunately, the petroglyphs don't turn out so well in photographs).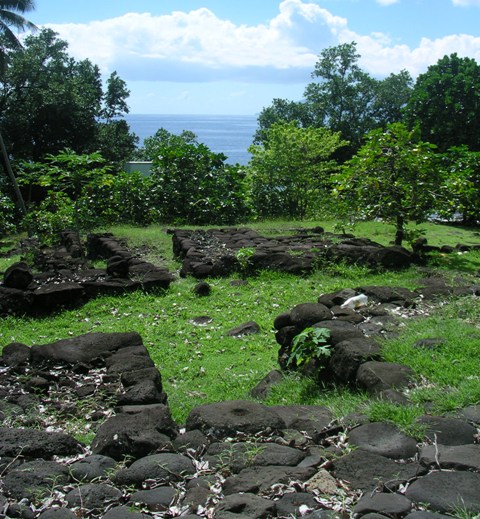 With a view like that, you might be happy with a house made of vegetation
After these few days of experiencing the generosity and bounty of this island, I am beginning to think of currency in terms of bananas. We have more bananas than we could ever eat, because they all ripen within a few days of each other. I'm talking like 40 bananas. You can spot those cruisers who don't have bananas, because usually the stalks are hanging off of their sterns. My new strategy is to look for cruisers lacking in bananas, and offer them some of ours. We won't ask for anything in exchange, but most people will insist on something. At this point, Warren's and my best hope is just a cold drink.
I had previously scoped out an Australian boat and a German boat in the anchorage, so after returning from town, we first meandered over to the German boat (s/v Taniwani out of Hamburg) and offered them some of the fish (we wouldn't have been able to eat it all, considering we're lacking in refrigeration), bananas, and oranges. They invited us aboard, offered us cold drinks (yes!) and then insisted we take a bottle of wine, too. Cool! All afternoon I had my eye on the Australian boat, but they were away. Just before dusk, they toodled back to the boat in their dinghy, and I could see that they were laden with two big stalks of bananas. Noooooo! The market has been flooded! It's time to move on to a new group of cruisers before our bananas get too ripe. It's off this evening for an overnight passage to Ua Pou.
Hanatefau, Tahuata
May 25, 2005
(Wojo) As promised yesterday, we hiked into town and met Te'i'i and his friends at his place where we were once again warmly received. It was beginning to get embarrassing with the amount of gifts these people showered on us with while here. Yesterday's haul included dozens of les oranges vert (green oranges), le chevre (goat meat) and red tuna. The only gift I had to decline was a big brick of the locally grown ganja (I begged off stating that I was just a visitor and needed to respect the gendarme [AKA the cops]).
One of the major treats of yesterday's visit was a tour of Te'i'i's uncle's "local boy chalet" next to his mama's maison (house). It appeared to be a simple but elegant little thatched roof hut on the outside but at closer look was an exquisite little masterpiece with all the trimmings! The rock masonry was painstakingly done and perfect. The house included an amazing "salle de bain" complete with sunken rock tub which all the plumbing fittings carved out of stone in animal shapes (to turn on the water you turned a beautifully integrated stone at the top of the figurehead).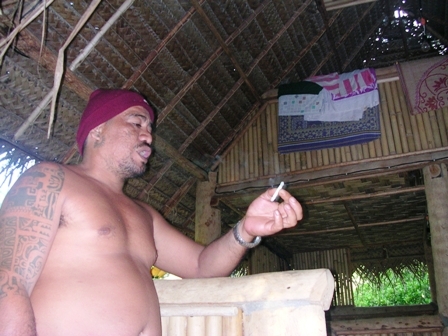 Maké le "singe" in front of Te'i'i's uncle's maison (that's a cigarette ... really)
Later in the evening Te'i'i and his friend Maké ("MA-cay", AKA Maké le singe [the monkey], according to his girlfriend) came aboard Mico to share a meal and watch a movie. A good time was had by all and we said our farewells around 2030. People turn in very early here.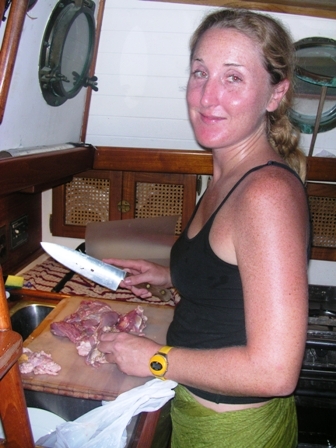 Preparing the evening goat! (Steph: The Joy of Cooking comes to the rescue again)
Today, we headed further south around the corner from Vaitahu near the village of Hapatoni, to anchor in the perfect little bay of Hanatefau, which reportedly has very clear water and good snorkeling (all true) off of a big coconut plantation. We're sharing the 6-fathom shelf with a Hallberg Rassey 43 from Seattle (for all the HRs we saw in Mexico, this is the first one that has actually made the crossing that we've seen), as well as a big Najad from Germany and a 55' custom yacht flying the red ensign of England.
Today was one of the hottest and calmest days yet and we spent 90% of it happily immersed in the clean warm waters.
More great snorkeling was had yesterday in Hanamoenoa where we spotted a large unknown ray (maybe a "bat ray") with a short barbed tail near the rock wall in the crystal clear waters.
Pulled up the anchor in Hanamoenoa today around 0945 and made the long two-mile passage around the corner to Vaitahu, the largest village on the island. Charlie's doesn't give high marks to the anchorage and even Cook reported bad squalls coming down the mountains. The bay is a deep bowl with a small ridge near the town where anchoring is possible in around 5-6 fathoms. Dropped anchor at 09 56.2' S 139 06.7' W. No other yachts in the bay at this time.
Covering both islands is chart 83218 (DMA based on French chart 3997). It is excellent and has thus proved to be quite accurate. There are several other "plan" charts of bays (not included in the Tide's End package) that are, as usual, a reference but not accurate to datum/grid.
After getting the boat sorted at anchor we put on the outboard and headed over to the little quay at the north of the bay. After I dropped Steph off and was working the stern anchor to hold us off a little, Steph immediately met a young man name Te'i'i (or Jean-David) who was interested in trading some fruit for whatever we had. This launched our tour of the village and we headed over to his mama's maison (house) for the fruit.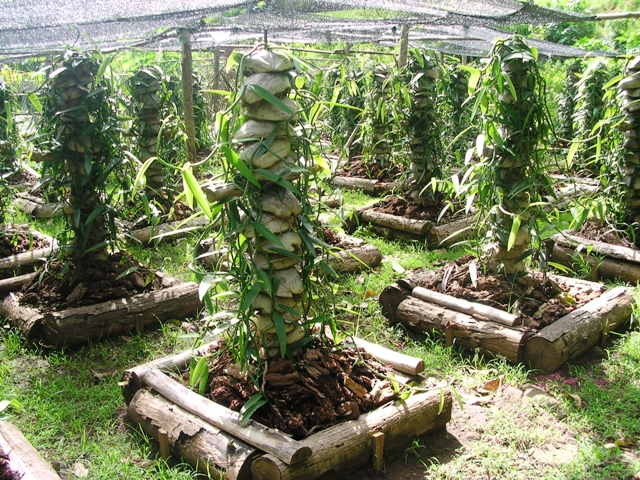 Vanilla vines are grown using a support of coconut husks, at maison de Te'i'i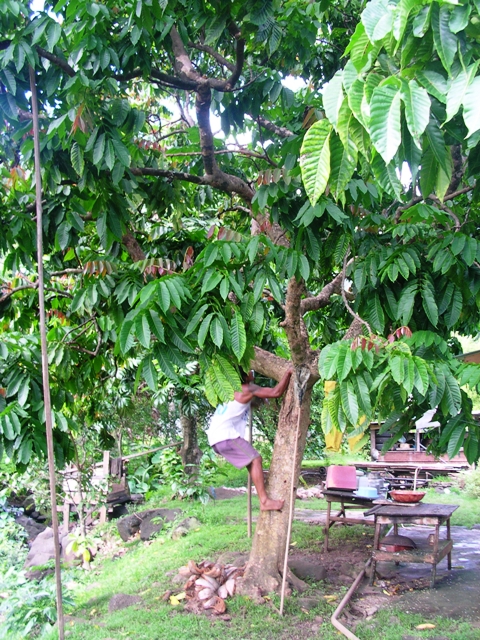 Te'i'i climbing the "Langon" tree
The smart little house was completely surrounded by every kind of fruit tree you could imagine (and even some you couldn't). We were treated to bags full of fresh bananas, coconuts, mangoes, pamplemousse, oranges, limes and something very tasty akin to a lychee nut. Te'i'i called it tuava, and we think we saw it labeled langon in a grocery store, canned in heavy syrup, from New Zealand. Te'i'i then took us 'round to the local artist's sculpting studio for a visit and to his grandmother's house, where she makes wonderfully smelling skin oil from coconuts.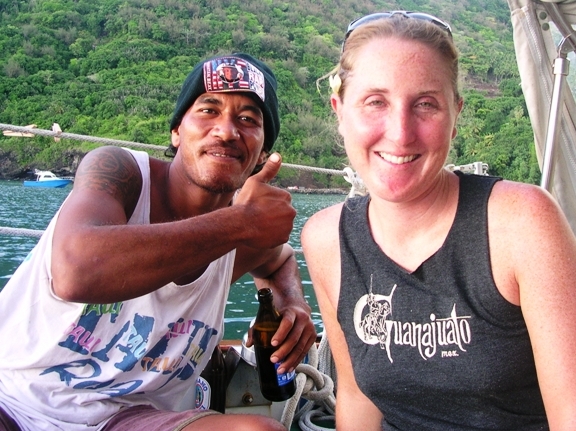 Back on Mico for a few cold ones with Te'i'i (local boy!)
After our visit to the village we invited Te'i'i back to the boat for a few Hinanos. I think our French may actually be improving a little because the communication wasn't nearly as strained it could have been!
Hanamoenoa, Tahuata
May 22, 2005
We departed Atuona after seven days in the snug little bay. It was really interesting being anchored here since the variety of boats and crews is nothing like Mexico.
Quick note about getting visas for French Polynesia: as usual the 65 year old know-it-all-beginner retirees in Mexico have been spreading BS ... You don't need to arrive in FP with anything other than a zarpe from your last port to get a three month visa. You just need a credit card for the bond (for US citizens about $1200 each) and $30 per visa. In fact getting a visa beforehand is a big mistake since you can't renew it (only visas obtained locally are eligible for the six month renewal -- that is, the additional three months you get from the high commission in Papeete if you plan to stay that long)! (Steph interjection: I met a fellow cruiser who is French, and in talking about the check-in and visa processes, he said he dealt with officials thusly: [very thick French accent begins now] "In French, we have an expression we call le plaisir idiot: 'I don't know what I'm doing! I'm so sorry! My boat is here, what shall I do? Do I need to leave? Please explain, I want to do things right!' It really works!")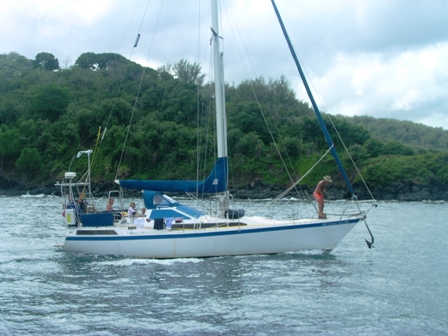 The Wyndeavor crew departing Atuona
At this time of year many Euro and east coast U.S. boats are starting to arrive from the Galapagos. After a couple of stormy nights we opted to put out about 120 feet of stern anchor rode which held us very well in the black sand but did turn a few eyebrows! Some catty women on the boat next to us were overheard stating "... don't they know that's the rode for a kedge?!" Probably the only drawback to arriving in a place full only of real cruisers is that after a passage this long everyone is convinced that they're an expert on everything.
After the rainy days inside the bay we were glad to take a long hike through the dense forest and vegetation in search of tiki and petroglyphs. Although we didn't actually find them (we did find the rock which is supposed to contain a petroglyph; we just didn't realize it till after the fact), it felt like we were finally doing some off-the-beaten-path travel. We even brought back a coconut we labored to open and that served us well for snacks and drinks later.
On the way back to the quay we were happy to discover that our old friends on Aurora b and Wyndeavor had arrived back in Atuona to check out from the southern group of the Marquesas. They had arrived about two weeks ahead of us. Our three boats (in addition to Mystic Rhythms) had all met at the San Diego cops' docks months ago ... interesting to see that everyone had opted to make the long passage. Many drinks were imbibed on various boats and good times had by all.
Considering our scrappy little squadron I can now really attest to the fact that the size of the boat and how much you spent doesn't mean jack out here. We departed Seattle with a number of 50+ foot gold platers whom we left behind in Mexico and Central America (at last report they were all considering turning back due to the trip not meeting "expectations"). Oh well, we wish them well.
The next day we carefully pulled our anchors and departed Hiva Oa for Tahuata, a whole 8 nm away! What a world away from the crowded muddy bay of our first stop. We pulled into Hanamoenoa and dropped the hook in the middle of the bay (09 54.4' S 139 06.3' W) in 30 feet of the clearest water we've ever seen in our lives. I'm not kidding ... at night with a full moon we could see the bottom over the side! We quickly put ol' Boney in the water and snorkeled for about two days straight. Today we chased a huge manta ray around near the sheer rock wall to the south. I dove down till I was just hovering above it, and held my arms out wide -- Steph said its wingspan was about the width of mine.
Once again our anchorage is a sample of 'the world.' There's a Canadian boat (consisting of a guy originally from South Africa and his Irish wife), an Italian 50' Swan ketch, another U.S. boat with a very French man and his American wife, and a Brithish boat.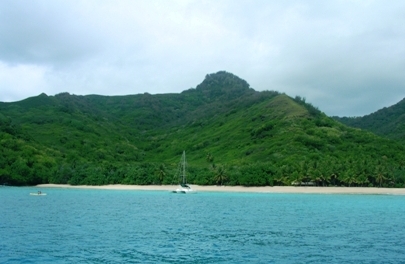 Now this is the South Pacific, baby!
The crystal clear water has been good for inspecting the bottom of the boat finally. I was surprised to find that the zinc shaft collar was completely loose. I'm wondering if it just happened or if I've just been oblivious to it rattling around lately.
I've also been continuing to try to track down the engine "overheating" issue that has plagued us for nearly the whole time we've owned the boat. Back in Atuona I changed the impellor and drained and re-filled the coolant. At anchor here I started testing the temp sensor (which it only took me about two years to find on the engine) but we're still running hot. The water here is probably about 40 F warmer than the Puget Sound waters so I shouldn't be too surprised. My latest theory is that the raw water flow is good but perhaps there's just a lot of scale on the tube stack for the heat exchanger. I should have had this cleaned out back in Seattle but I might be able to ultimately find a radiator shop in Papeete to do this task (the other option is to boil the whole thing in acid which I'm not crazy about doing). Although the temp gauge is always reading too hot, surprisingly the alarm never gets tripped. It's on a separate sensor and circuit which I've tested and the sensor is brand new. Theoretically if the jacket temp was really above 210 F the ground would close and the alarm would sound.
(Steph) I haven't written a journal entry in over a month, so this is going to be more of a spill-the-guts session comprising the crossing and our last few days here in civilization, glorious civilization.
The passage could be summed up thusly: they were the most difficult 29 days of my life. You probably expect to read on about storms, scary seas, food and water shortages, falling overboard, being adrift ... but really, things went as expected. The only surprise is that if I did believe in a purgatory, I have already experienced mine while still on Earth.
Nothing could have prepared me for how uncomfortable I would be -- sure, I've sailed this boat enough to know that we don't always jauntily move along as if on a light rail. But I've never had to prolong the motion for an entire month. First, in the NE tradewinds, we were heeled over to port for a week straight, in 10-15 foot seas. Then, during our lovely time through the ITCZ (for you non-sailors out there, it's a nasty little stretch of about 120 miles that is squally and rainy), we were basically soaking wet the whole time. I gave up wearing clothes underneath my foul weather gear, because they would just get wet anyway when rain leaked down my sleeve or a wave splashed up the cuffs of my pants. Next came the SE tradewinds, which meant we were heeled over to starboard for another week. You ladies (and some men, I guess) who get to pee on a toilet that is flush with terra firma have it soooooo good. And with all the heeling over I was continually bumping into things and had a gorgeous new black and blue mark somewhere on my body almost every day.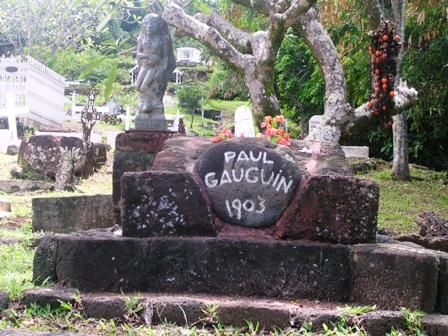 Gauguin's tomb at Atuona
Now, take the endless uncomfortable motion and add to that heat and humidity. I never knew a person could sweat all day long, without moving a muscle. Going out in the sun to actually have to do something on deck? Please don't let it be so! And did I mention that I washed my hair twice in that month? The motion was so difficult to maneuver in that we just didn't bother showering for fear of getting thrown overboard. Thank god for a spray bottle of water and our own little invention we like to call a Mico shower.
All that I've described contributed to an emotional instability I've never experienced before. I was absolutely miserable. I broke into tears every few days after a bonk on the head, or a particularly laborious changing of the headsail. I led a rich fantasy life, where I recalled all the good times I've had with friends, comfortable apartments, big kitchens with running water and refrigerators. Do not get me started on my memories of ice cream. My dreams were almost always better than reality. From the beginning, Warren would try to get me excited about "the next boat." After a while, I told him that as far as I was concerned, there would be no next boat. I cannot do this again.
I am whining terribly, I know it. But I feel like I should be honest, because before this crossing I'd never heard anyone give it a negative spin at all, unless it was weather- or gear failure-related. With bad weather or a gear failure to compare it to, it might not have been so bad after all. So believe me, I do consider us fortunate in that we don't have a really bad story to tell you. I may decide that it was worth it after we've had five months in the South Pacific, but I feel like I have to be honest about the voyage. I never imagined it would be so difficult for me.
(May 12) But, we finally made it. Land ho! I love land! From the moment we could make out detail, we could see that we'd definitely reached the tropics. Lush greenery clings to every patch of soil. You don't just see it, you smell it!
We pulled into very crowded Tahaoa Bay, asked Tom from s/v Gosi to help us set our stern anchor, and soon were happily lazing in the cockpit. Joe, from s/v Stalachie, zipped over in his dinghy and, in a very un-Mexico cruiser fashion, asked us if we had refrigeration. In response to our sad declaration that no, we do not have refrigeration, he brought over two cold beers. So far, this looks a lot like paradise. We found out that Gosi had also just come in that day, but they were hard at work cleaning up their boat. We guiltily watched as they worked till sundown. (The next day, they told us that they longingly glanced at us drinking beers in our cockpit and felt very foolish that they were working so hard. Ha!)
(May 13) The next day we started ticking off items on our long to-do list. Putting away our three headsails, cleaning up the cabin, getting the dinghy afloat. Around noon we finally made it to land where our rubbery legs began to protest at having to walk more than 10 steps at a time. We found out that we could hitch a ride the two miles to Atuona, the nearest town, but decided to walk it for our own good.
We made it into town with twitching calf muscles, but managed to stay upright. We stopped for lunch and enjoyed $12 cheeseburgers. I insisted on ordering a salad, because the freshest vegetables we'd had for a while were onions. The salad was like manna from heaven -- my cheeseburger was just okay, but I will never forget that salad. After lunch, we set off in search of a phone card to call the folks and let them know we're alive. Unfortunately, we soon found out that phone cards are only available at the post office, which had closed early on this Friday afternoon. And they didn't open again till Tuesday, because of a holiday on Monday. And did we mention the post office is also the only place with an Internet connection? So, my parents would have to frantically wonder what has become of us till the 34th day after we left Mexico. We also missed the opportunity to check in with the officials here, so looks like we'll be here through the long holiday weekend.
(May 15 and 16) It has been very rainy the past few days -- I have done a bunch of laundry but am having a devil of a time getting it dry. I'm afraid if this keeps up everything is going to mildew. We've met a few more cruisers in the anchorage, but the weather has been prohibitive in venturing far from our boats.
(Warren) The days start pretty early around here as the sun is up at 0500. We tried desperately to make some more progress getting some work done around the boat early while it was still relatively cool. Around 0730 we thought we might get the jump on the other cruisers at the fuel dock and try to acquire some baguettes for breakfast, but no luck -- no 'pan' service today.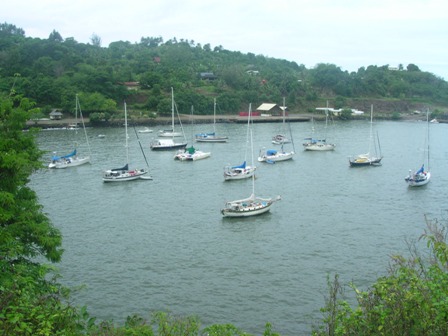 Mico and the fleet squeezed into Taahuku Bay on Hiva Oa
We've still not cleared in yet as the gendarme stops processing cruisers at 1100 and will be closed 'til Tuesday due to a holiday, so we'll be around here for at least a couple more days. We're very tempted to just cruise next door to Tahuata and then report ourselves as having officially arrived once we make it to Nuku Hiva to the north.
In an attempt to find some Internet access in the late morning we had a good long walk up the mountain next door to a hotel at the top, but unfortunately the machine that's designated was down and the restaurant was closed. Have we mentioned how amazing the scenery is around here?! We did manage to thumb a ride down the hill and around the bay to the village where we had a few beers and pizza with some other cruisers (from Seattle, even).
At the "dinghy dock" (complete with six foot surge) we had an interesting adventure of saving a fellow cruiser's hard dink that was completely sunk and was wrapped under the wharf. We even searched around the bay and found their oars! We pulled it up and set it on the hard. To land here reasonably safely you need to set a good dink anchor off the stern before tying up the bow to keep the dink safe.
To read previous posts, check out the Journal.
Do you want to be alerted when we update? Please email micoverde@gmail.com to let us know.